CONTENTS
Welcome Message
Pothohar Di Dunya Jagjit Kaur Goel
Dr Manmohan Singh T S Chandhyoke
The Sikh Courier
60 Glorious years of selfless service in the field of Sikh Studies Dr S S Kapoor
Sikhs recognised by the Queen in the Birthday Honours List 2020 T S Chandhyoke
Looking After Your Mental Health Dr Pushpinder Chowdhry MBE
Cultural Appropriation Vaani Kaur
The Real Mystical Meaning of "ਪੰਚ" (Panch) Dr B S Bagga
Bhai Vir Singh Mrs J K Goel
Lt Col Pritpal Singh Bakshi N P S Bakshi
Pothohari Recipe's
Member News
Ranjit Singh Uppal Appointed District Judge
Wedding of Ganeev & Amanbir
Book Reviews:
The British and the Sikhs – Gurinder Singh Mann
The Lost Homestead – Marina Wheeler
Obituaries:
Daljit Kaur Chandhyoke



Welcome Message
Chanchal Singh Chowdhry, President Pothohar Association
Greetings! Welcome to The Pothohar Times- winter edition. This digital magazine connects, shares and inspires our Pothohari family and friends with our constantly evolving stories.
I am proud that your executives have diversified its activities to keep you engaged with global Pothohari and Indian diaspora. This has been through various online lectures, Kavi Darbar and musical events. This year in the midst of Covid-19 we faced many hurdles. However we fared far better than many other charities. I am extremely happy to see how we have worked together as a community to support each other, this is our ultimate goal.
Your executive committee has been regularly holding meetings and working on our long term objectives. I am aware of our obligation to hold our AGM, but the Executive Committee has decided to postpone this until next year.
We are always looking to work on interesting topics and finding experts for that particular field. We have developed good relationships with Punjabi Universities both in India and Pakistan. Our keep fit Yoga classes attract many members and I am pleased that people from other Asian communities are joining these classes. The mental and physical health of you all is one of our highest priorities, we hope you enjoy these sessions.
I encourage you all to participate in our online activities, you can volunteer to host a lecture or join our panel of experts for our discussions. The month of December offers new challenges as it is darker, colder and our children will have a long break from school. We should try to pool our resources by learning new skills from each other, sharing new recipes or fun ideas and telling our interesting stories. This can all be done easily online.
We are planning to virtually celebrate the new year on 1st January 2021, more details to follow.
Sadly in the last few days we received a reminder of the type of racist bullying that we thought we had seen the back of in the 20th Century. A video has been widely circulated which many of you may have seen. In response I have written to the Prime Minister. See the letter here.
This year, the global pandemic has tested our resilience. I believe, every member of our community is working hard to support each other. Your executives are only a phone call away, knowing that together we will make it through.
Wishing you all a safe and happy festive period!
Pothohar Di Dunya
Jagjit Kaur Goel
The major differences between standard Punjabi and the Pothohari Language are the different pronouns and adverbs. Pothoharis also have a different way of using the future tense. The usage of sound -san for -ga, and -na for -da, also differentiates Pothohari from Standard Punjabi.
Here are some examples of some popular words, and common phrases spoken in Pothohari, compared with Standard Punjabi.
Pothohari
Punjabi
English
ਤੁਸਾਂ
tusan
ਤੁਹਾਡਾ
tuhada
yours

ਤੇਰਾ
tera
ਤੇਰਾ
tera
your

ਤਵਾਡ਼ਾ
twarra
ਤੁਹਾਡਾ
tuada
yours

ਸਾੜਾ
saarra
ਸਾਡਾ
saada
ours

ਮਾੜਾ
marra
ਮੇਰਾ
mera
mine

ਮਕੀ
mikki
ਮੈਨੂੰ
mehnu
me

ਤੁਕੀ
tukki
ਤੈਨੂੰ
tehnu
to you

ਅਛੋ
atcho
ਆਵੋ
avo
come

ਗਛੋ
gatcho
ਜਾਵੋ
jaavo
go

ਕੁਥੈ
kuthee
ਕਿਥੇ
kithhe
where

ਗਛਆਿਂ
gachian
ਜਾਈ
Jaeen
go

Click here for some more common phrases
Pothohari's in the Spotlight
We have a wealth of renowned Pothohari's across the world who have continued to demonstrate amazing role model examples. Their leadership has influenced and inspired people of all groups/religions.
It is therefore very apt to start a series to highlight the work and profile of some of our key Pothohari's.
Dr Manmohan Singh
Tejinder Singh Chandhyoke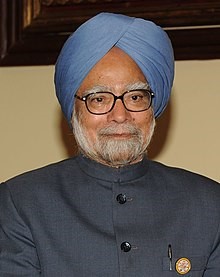 It is with great pride I would like to start this series with a personality who has been and still is a truly inspirational role model and acknowledged globally for his vision and integrity.
He is the former Prime Minister of India, Dr Manmohan Singh who is widely recognised as having implemented the economic reforms to transform India.
He needs no introduction as one of the most influential architects of India's economy.
He is among those few Indian politicians of our times who is accorded respect and earned a reputation as a man of great personal integrity and is undoubtedly the most educated Prime Minister that India has seen.
Dr Manmohan Singh was born to Gurmukh Singh and Amrit Kaur on 26th September 1932 in Gah, a village of Chakwal District, Punjab British India.
He is the first Sikh in office and the first PM since Jawaharlal Nehru to be re-elected after completing a full five-year term.
After the Partition of India, his family migrated to Amritsar, India, where he studied at Hindu College. He attended Panjab University, then in Hoshiarpur, Punjab, studying Economics and got his bachelor's and master's degrees in 1952 and 1954, respectively, standing first throughout his academic career. He completed his Economics Tripos at University of Cambridge as he was a member of St John's College in 1957. After Cambridge, he returned to India and served as a teacher at Panjab University. In 1960, he went to the University of Oxford for his DPhil, where he was a member of Nuffield College.
Early career
After completing his D.Phil., he returned to India where he was based at Panjab University. He then went to work for the United Nations Conference on Trade and Development (UNCTAD) from 1966–1969. Later, he was appointed as an advisor to the Ministry of Foreign Trade by Lalit Narayan Mishra, in recognition of Singh's talent as an economist.
In 1972, Singh was chief economic adviser in the Ministry of Finance and in 1982 he was appointed as Governor of the Reserve Bank of India he then became the deputy chairman of the Planning Commission (India) and then moved to Geneva as Secretary General of the South Commission.
Manmohan Singh returned to India as the advisor to Prime Minister of India on economic affairs during the tenure of V. P. Singh.
Political career
In June 1991, India's prime minister at the time, P. V. Narasimha Rao, chose Singh to be his Finance minister. Singh told Mark Tully the British journalist in 2005, "On the day (Rao) was formulating his cabinet, he sent his Principal Secretary to me saying, 'The PM would like you to become the Minister of Finance'. I didn't take it seriously. He eventually tracked me down the next morning, rather angry, and demanded that I get dressed up and come to Rashtrapati Bhavan for the swearing in. So that's how I started in politics".
As finance minister he introduced the new economic policy that allowed the growth of privatised industries, opened up the Indian market and attracted large amounts of foreign capital.
Dr Singh is rightly acclaimed as a thinker and a scholar for his diligence and academic approach to work. His book India's Export Trends and Prospects for Self-Sustained Growth was an early critique of India's inward-oriented trade policy.
Dr Singh spent five years from 1991 to 1996 as India's finance minister which was the turning point in the economic history of Independent India.
He then served as Prime Minister from 2004 to 2014. In early 2014, Dr Singh announced that he would not seek a third term as Prime Minister in the elections to the Lok Sabha that spring.
His latest book Changing India was published on 14 March 2019 and documents his life and work as an academic, a policyholder and a politician. It deserves to be read by anyone who wants to understand the economic and political journey of modern India.
The Dr Manmohan Singh Scholarships are available for any students for doctoral study at St. John's College at the University of Cambridge and for undergraduate studies at the University.
In a recent BBC interview dated 10th August 2020 Dr Singh was asked for the ways to tackle the current economic crisis and he suggested the following 3 key steps –
Increase the purchasing power with direct cash assistance.
Make adequate capital available for businesses with credit guarantee programmes.
Fix the financial sector
Family and personal life
Singh married Gursharan Kaur in 1958. They have three daughters, Upinder Singh, Daman Singh and Amrit Singh. Upinder Singh is a professor of history at Delhi University. Daman Singh is a graduate of St. Stephen's College, Delhi. Amrit Singh is a staff attorney at the American Civil Liberties Union.
His favourite hobbies among many are poetry, reading, writing and listening to music. His favourite foods are Missi Roti, Vadiyaan and Pulao Chole.
Dr Manmohan Singh at the age of 88 is still a sought-after leader for his economic expertise and intelligence. He has truly established his image as a go to person to seek his wisdom on extreme complex economic situations. Governments, universities and business organisations across the globe recognise his leadership and wisdom.
We as Pothoharies and the world in general feel honoured and privileged to have a leader, role model, inspirational person with global credibility. We salute Dr Singh with pride who has set a path for the future generations to follow and accomplish their goals. May WaheGuru ji bless Dr Manmohan Singh with happiness and good health always.
---
60 Glorious years of selfless service in the field of Sikh Studies
THE SIKH COURIER INTERNATIONAL
Dr. Sukhbir Singh Kapoor OBE, Vice Chancellor, World Sikh University London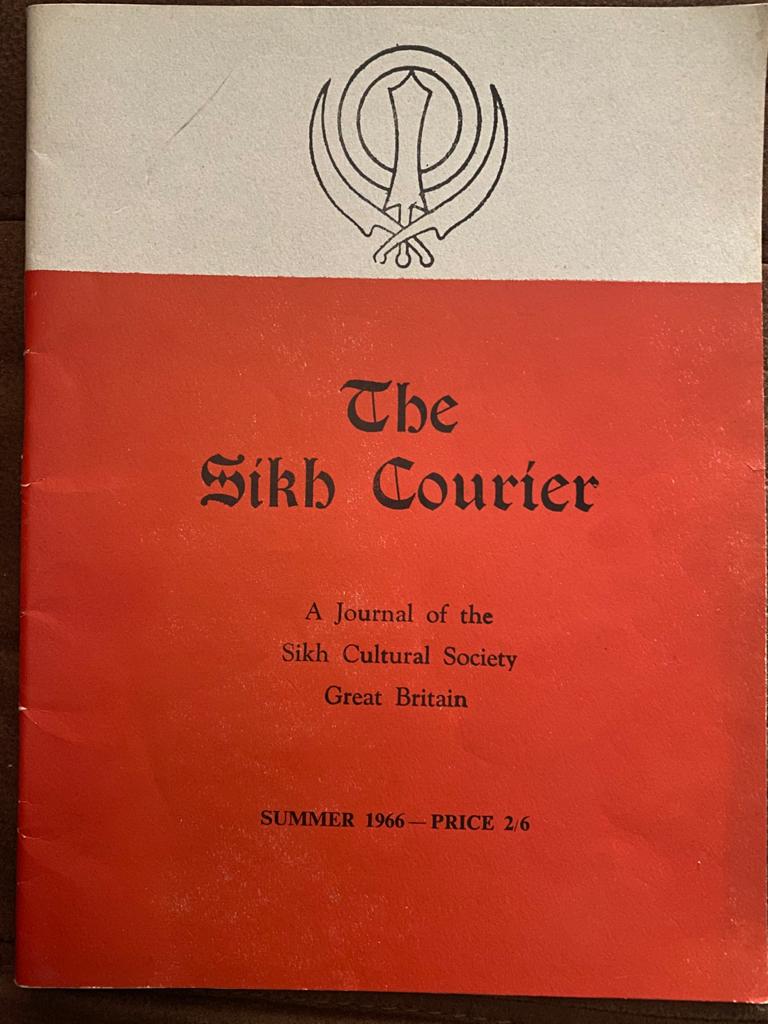 The Sikh Courier International was founded in 1960. Dr Jit Singh Chandan ,a student at Wigan Technical College at Wigan, Lancashire, with the help of Dr Ajit Singh Bittoo formed the Sikh Cultural Society of Great Britain and started the publication of the Sikh Courier.
Sardar (Dr) Amar Singh Chhatwal came to UK in 1962, and soon after that got himself involved in the publication of the Journal,
In 1965, both promoters of the Journal, Dr Jit Singh and Dr Ajit Singh, migrated to North America. and left the control and the publication of the Journal in the able hands of Dr Chhatwal who worked day and night to carry the Journal at its International heights. Unfortunately, Dr Chhatwal left all of us in 2001.
Since its inception, the Journal has had many editors. The present editor Dr Sukhbir Singh Kapoor OBE took over this important and challenging task in 1984 and has made the Journal an important Global publication specialising in Sikh religious studies. Outside India, this is the only Journal which is published in English and focusses in all aspects of Sikh Studies.
After the demise of Dr Chhatwal in 2001, the most arduous duties of financial affairs and publishing fell on the strong shoulders of Dr Amarjit Singh Chopra, who has worked extremely hard to keep the Journal in publication and in circulation. The distribution responsibilities of the Journal are accomplished by Harjas Bharara.
The team of this trio Dr Kapoor, Dr Chopra and Mrs Bharara has been working in harmony and accord since then and has been successful in spreading the teachings of the Sikh Gurus and keeping the Sikh history alive in the western world.
Looking into the archives of the Journal, and old issues of the first 10 years of its publication the names of top Sikh Scholars and historians can be found for their valuable contribution to the Journal.
A glimpse of the old memories are re-produced hereunder:
Issue Date
Selected Contributors and their articles
October 1960
Dr Swani [Need of a Mission], PM Wylam (later Manjit Kaur)
[An Introduction to Sikhism]
April 1961
Prof Kirpal Singh [Baisakhi]
June 1962
Sardar Kapur Singh [Martyrdom of Guru Arjan]
Dr Tirlochan Singh [The poetry of Guru Arjan]
June 1963
Dr Gobind Singh Mansukhani [The Ten Commandments of Guru Nanak]
November 1963
Khushwant Singh [Guru Nanak, Sri Rag],
Dr Taran Singh [Guru Arjan Rag Gauri],
George Harrison [Encounters with Sikhs and Sikhism]
April 1964
Professor Harbans Singh [Guru Nanak is my Hero]
January 1965
Dr Gopal Singh [God, A Presence]
Principal Teja Singh [Guru Nanak's Religion in his own words]
Winter 1966
Professor Narain Singh [An Appreciation of
Guru Gobind Singh
Autumn 1967
Bhai Jodh Singh [What is Sikhism]
All the above stalwarts, scholars and historians have now, though gone in the world unknown, but their memories are still alive in their writings, and the Sikh Courier International has played a very special and important role in keeping them alive and blooming in readers' memory.
MUN MUNDAR TUN VES KULUNDER,
GHUT HEE TEERAT NHAVAN

My mind I have made my temple.
My body I have dressed in a pilgrims garb:
In my heart are the holy waters in which I bathe;
His word to me is the breath of life,
I shall be born no more. I have ended my strife.
My mind is engrossed in the Merciful Lord. O Mother,
Who can know of my hearts sorrow
Except my Lord? I think of no other.

You who are beyond reach, beyond description, beyond knowledge.
You who are limitless,
Think of us !
You are spread over the waters
And across the land.
In the spaces between the heavens and the earth
Are You,

In every heart burns Your light.
All teaching, all understanding, all comprehension,
All this is as You ordain
You are the shade in which I rest
And the mansions we raise.
None other besides You will I ever know, O Master.
Forever shall I sing in praise of You.

Man and beast, all Your shelter seek.
You have to look after everyone.
This is Nanak's one prayer and only request
That he look upon Your will as for the best.
Translated by Khushwant Singh from an early issue of The Sikh Courier
---
Sikhs recognised by the Queen in the Birthday Honours List 2020
Tejinder Singh Chandhyoke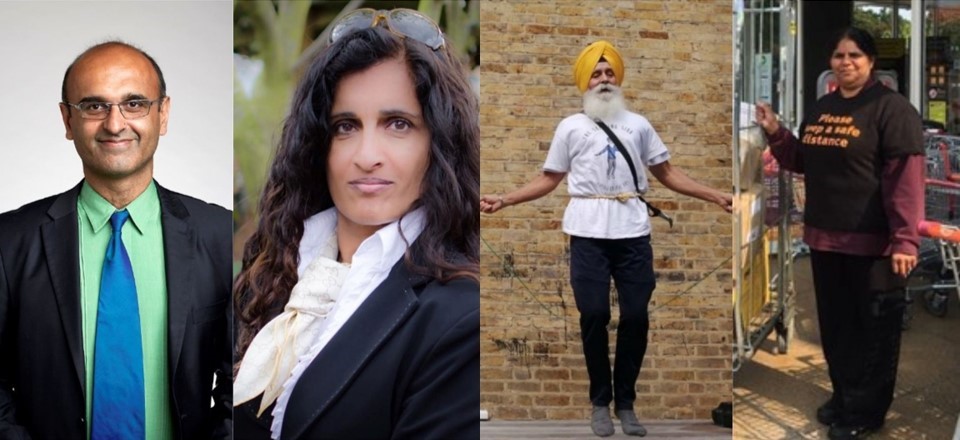 The Queen's Birthday Honours List of 2020 looks very impressive and recognises several Sikhs and people of Indian origin.
Amongst the notable individuals is Professor Yadvinder Singh Malhi CBE, a renowned scientist based at the University of Oxford whose research has looked at the impact of global atmospheric change. Professor Malhi said
I am very surprised and humbled to receive this Honour. I am particularly pleased that it is 'for services to ecosystem science', and I hope it brings some more recognition to the vital importance of intact and restored ecosystems to our future. As a member of Britain's Sikh community, I hope it shows what important role our community can play in engaging with these fundamental issues, both in the UK and internationally, around the sustainability of our impact on the planet.
Manjit Kaur Gill is a respected campaigner and activist who set up the charity Binti to provide menstrual dignity to women all over the world. The charity has volunteers in 12 countries around the world and they have helped tens of thousands of people over the last 6 years. She receives an MBE for her inspirational leadership. Manjit said:
My work has been honest and challenging and I am fuelled by the fire that there is hope in humanity. When I found out I was being included in Her Majesty's birthday honours, I felt that we were a step closer to our dream to create a world where all women have menstrual dignity. In the 6 years that Binti has been running, we have taken the period revolution to Her Majesty who has in turn, generously recognised our work with one of the highest honours.
Another recipient is Rajinder Singh, also known as the Skipping Sikh. During lockdown, Rajinder decided to share videos online of his skipping fitness routines and inspire others to keep active with him. His exercise videos went viral, and he helped to create a positive attitude for many within the Sikh community. He also managed to raise over £12,000 for the NHS through his efforts. He receives an MBE. When asked about his honour, Rajinder said:
I am truly honoured and humbled to receive it. I feel I am not someone who deserves this honour as I am a selfless sewadar who just wants to give back. I am the son of Guru Nanak Dev Ji and a key principle of my faith is to serve others, so I feel this is my duty and will continue to be until my last breath.
Also receiving an MBE is Rani Kaur, who is a Food Services Assistant at Sainsbury's and who has been awarded for her services to the community in Bedfordshire during Covid-19. She has been pivotal in obtaining donations of food and groceries from Sainsbury's for a project providing supplies to vulnerable people which has been run by the local Sikh and Ravidassia communities.
Click here for a list of other recipients of Sikh heritage.
---
Looking After Your Mental Health
Dr Pushpinder Chowdhry MBE
To raise awareness of men's mental health Tongues on Fire has started a campaign to address the taboos relating to Men's Mental Health issues and highlights the importance to seek help. 1 in 4 people in the UK will experience a mental health problem, yet so many suffer in silence.

More than 2,000 deaths have been registered as suicide in England in the first half of 2020, which charities have called a serious public health issue. Mental health can affect anyone but the stigma attached to it stops people from opening up and seeking help. Men's mental health continues to be a taboo subject.

Here is a simple Mental Health Guide to coping with Lockdown this winter
Waking up slowly- On dark mornings wake up gradually, check how you are feeling physically and mentally?
Self-Care- spend time on yourself and something to relax
Eat meals that make you feel good and drink plenty of water to keep yourself hydrated
Limit News – Limit the time you spend on social media & listening to the news
Time for yourself – What would you like to do today to make you feel good, plan time into the week where you do some physical exercise outdoors
Stay connected – Plan something you can do with your loved ones this week even if you are apart, It may be difficult to see your family and friends use technology and social media.
Ask for Help when you need it. What's taking up most of your headspace right now? If you notice you are struggling reach out for help to family, friends or for professional counselling
For help, you can reach out to UKAFF Talking Therapy for a confidential counselling service including six free over the phone counselling sessions with a qualified counsellor and information about support groups available to you in the UK.

Don't suffer in silence, don't suffer alone.
Please call 07930 491915 to access this service and leave a message, a qualified counsellor will then call you back to schedule an appointment.
---
Cultural Appropriation
Vaani Kaur
Read the full article here
We have all seen it, countless times. Someone wearing a bindi at Coachella, the "Namastay" t-shirt, an article about the benefits of a "newly discovered" spice called turmeric and the boutique yoga studio full of culturally homogenised clients. None of those break any rules yet, it still doesn't feel quite right does it?
You see, the thing about being someone from a minority background is that when you experience misappropriation of your culture you aren't only thinking about that one specific incident. It's your background knowledge coming in to play as well, the truth that when India was colonised the value of practices such as yoga and ayurveda was taken away, even banned in places. It's you going to school with mendhi on hands and being made fun of; but those people are now probably lining up for a funky henna tattoo. It's the fact Sikh people wear turbans and get called terrorists but you can buy a Gucci one and call it high fashion.
Our social and cultural traditions that were undermined for so long are now being parroted back to us in a more palatable way. "Exotic" things are cool, but the people aren't. It seems mainstream society wants our things, but not us. What is the right amount of exotic? And at what point does who we are stop being marketable?
Recently I was scrolling on Instagram and paused when I saw the schedule for the Happy Place Virtual Festival, a month long wellness festival founded and run by TV celebrity, Fearne Cotton. It comprised of talks, workshops, yoga classes and other activities with the aim to make people feel joyful, included and less stressed. Like most businesses when Covid hit they had to quickly readjust and the festival became completely virtual.
Each day a post would go up on to their feed that contained the schedule of events, and on this particular day, something jumped out at me. There was an event by Happy Place titled "The Story of Lakshmi and a love meditation" held by a white woman. Suddenly, that feeling came back, this isn't quite right… is it? Aside from the fact that the goddess Lakshmi has nothing to do with love (she's the goddess of wealth), the idea that this huge, mainstream platform hadn't bothered do it's research to accurately honour and represent our culture and, furthermore, couldn't source someone of South Asian origin to lead this discussion made me angry. The irony that specifically the goddess of wealth was being appropriated and likely lining pockets of non brown people, wasn't lost on me.
I immediately looked at the comments and was pleasantly surprised that the people who came across this before me, did in fact think this was cultural appropriation. Hundreds of Instagram users from all backgrounds showed up in support asking for answers and an apology. By the end of the first day we had not received any response and decided to readdress the issue the next day.
We commented for days, tirelessly sending messages, leaving comments and contacting anyone with a platform who could help flag what was going on. I wasn't even sure the influx of direct messages that we were firing off multiple times in a day were being read. My private messages were filled with a new support system, people who felt the same, who had enough of whitewashing in general and wanted to do something about it. I don't know what was different about this time over others but it felt like we were in it together, we couldn't stop until we made a positive change. I made sure each comment I left for the Happy Place team was politely worded and open for them to engage further with me.
Eventually, we received a reply, one from the Happy Place account and one from Fearne's. They said the festival has many teachers who are fully immersed in the traditions of teaching. I responded with a detailed message agreeing that the festival as a whole is a great idea and it should be a safe space. I posed one simple question- were they willing to disclose the number of yoga teachers involved in the festival that were of South Asian heritage?
As the days went on I noticed more new faces joining in, with what essentially was an online protest which was fitting for our post coronavirus world. We had the regulars showing up at the front of the comments leading the way followed by new additions liking their way through our messages and adding their own voices too. It was exciting to feel like we were doing the right thing, giving ourselves the power to speak up no matter how large, or small, a platform we had. Nothing bonds you together with a group of strangers like working and fighting together for a cause- it was incredibly empowering.
There were negative effects too. We were taking hours out of our day in the middle of a pandemic to seize back our own stories and looking for a way to control our narrative; which was emotionally draining and mentally straining.
Finally, one Friday morning, Fearne Cotton asked if I was free to talk. We hadn't directly communicated until this point. We talked on the phone respectfully-I reiterated that I wanted to help to educate those involved so we can move forward in a positive way not to "cancel" her. I was stunned when she asked if I would be interested in collaborating on something with her for the festival to speak our truth, I agreed and we bounced a few ideas around regarding our next steps forward. Finally it didn't feel like it was us versus them and our emotional labour was paying off.
We filmed a long talk titled, "Understanding Cultural Appropriation" to become part of the festival. I nervously joined a Zoom call with Fearne Cotton and a few team members who were thoroughly welcoming. I felt comfortable and she explained that this was my platform to speak.
I hope this encourages you to speak up about anything no matter how small or big, because you matter. It matters who is telling our stories, we need to be our own storytellers. I am proud to advocate for societal change and hope to continue to shout our stories from the rooftops.
The Real Mystical Meaning of "ਪੰਚ" (Panch)
My first encounter with this most important word "ਪੰਚ" in our sacred scripture, Sri Guru Granth Sahib (SGGS), was in 1957 (age 9) when I learnt Japji Sahib by heart, from a Hindi Gutka, and knew the 16th Pauri or Verse of Japji Sahib "ਪੰਚ ਪਰਵਾਣ ਪੰਚ ਪਰਧਾਨੁ".
It was in 1960 (age 12) when I self-taught myself Gurmukhi script and read my daily Paath of Japji & Rahiras Sahib from a Gurmukhi script Gutka and continued till 1969 and finished my Engineering degree at IIT(BHU) in India and came to UK for higher studies at Liverpool university. In early 1970, My mother used to go a ladies Satsang organised by a saintly lady known respectfully as "Mataji". I went along with my mother and 4 sisters to meet this Mystic saint lady "Mataji". She was very pleased to see me and as a special token of her Love & Blessing, gifted me a secret mantra of quietly reciting the 16th Pauri of Japji, ਪੰਚ ਪਰਵਾਣ ਪੰਚ ਪਰਧਾਨੁ – before any important occasion or professional interviews and continued material and spiritual success will follow me.
I came back to UK after short spell of 2 months in India, to continue my professional life. In 1977, I went to Iran as a project manager for an oil & gas company and on my first helicopter visit to one of the oil field project site, I had my first divine glimpse of the vast universe and Japji Sahib seemed to be clearer to me and the fear of death vanished (to realise the inrBau Nirbhau state). It was around mid 1984 that I first met Dr Gobind Singh Mansukhani and he was quite impressed to meet me and my wife and encouraged both of us to do research work in Sikhism. I worked very closely with him for almost 10 years and met several other renowned Sikh professors and together we organised a series of lectures at 7 major international cities of the world and a selection of 18 lectures was published by the Institution of Sikh Studies, Chandigarh, in 1992 as a book entitled Fundamental Issues in Sikh Studies. The main area of my research work and contributions was in Sikh Mysticism.
In order to find the real mystical meaning of this important gurbani word "ਪੰਚ" a comprehensive research indicated that this word "ਪੰਚ" appears approx. 94 times in SGGS and generally most of the times it refers to number Five (5) except in a few shabads e.g.Japji Pauri 16 for "ਪੰਚ"; and Anand Sahib Pauris 5 for, "ਪੰਚ ਸਬਦ" and Pauris 3 for "ਵਾਜੇ ਸਬਦ ਘਨੇਰੇ" referring to "ਅਨਹਤ ਸਬਦੁ" that appears approx. 10 times each. The gurbani word "ਪੰਚ" was not found in the Mahan Kosh (Encyclopedia of Sikh Literature by Bhai Kahan Singh). However, "Guru Nanak Glossary" compiled by Prof. Christopher Shackle was consulted which reveals the word ਪੰਚ Panch as a number 'Five' has various implicit meaning e.g. 'the 5 members of a panchayat', 'the 5 senses' (seeing,hearing,smelling, touch,taste), 'the panj tatta or panch bhuti, the body composed of 5 elements' (earth, air, fire, water, ether), 'the 5 passions' (kamu, krodhu, lobhu, mohu, ahankaru), 'the 5 virtues' (satu, santokhu, daya, dharamu, dhiraju), and from further interned search 'the 5 sounds' (para. vaikhari, vasanti, madhayama, pashayanti, and also ultrasounds, and tiny pulses of the electrical activity…alpha, delta, theta, beta & gamma waves) and panch sabad 'the heavenly 5 part harmony heard at the climax of the mystical experience or the Word communicated by the Satguru etc.
However, the mystical awakening Sounds of Awareness are not limited to number 5 but are many, countless vibrations, as in Pauris 3 of Anand Sahib "ਵਾਜੇ ਸਬਦ ਘਨੇਰੇ" referring to the unstruck mystical sounds "ਅਨਹਤ ਸਬਦੁ".
The word "ਪੰਚ" generally refers to number 5 as seen above. It is lso used in referring to "Panj Piyare" or the 5 beloved Sikhs who were the first 5 baptized Sikhs during the formalization of Khalsa Sazna or Amrit Ceremony in 1699 when the 5 able volunteers were transformed to be the 'Pure Ones' and were given the name SINGH and then together the 5 "Panj Piyare" baptised Guru Gobind Singh and laid the foundation stone of a democratic process and replace the embodiment of Guru by SGGS.
The other important mystical meaning of "ਪੰਚ" in "ਪੰਚ ਪਰਵਾਣ ਪੰਚ ਪਰਧਾਨੁ" is translated by most of the learned scholars as:- the Approved by God as saintly men; The chosen win approval they are the chosen ones; Elect are the ones approved unto Him; the chosen ones, the self-elect are accepted and approved etc. According to my research findings all the existing translations of SGGS are based on the outdated Judo-Christian theological system of blind faith and blind reverence, which cannot be challenged for the fear of blasphemy. It is time that we apply Gurmat wisdom to translate SGGS with deep mystical meanings from a point of view of Global Oneness
However, the real mystical meaning of "ਪੰਚ" in "ਪੰਚ ਪਰਵਾਣ ਪੰਚ ਪਰਧਾਨੁ" is nothing to do with number 5 'Five' but refers to the awakened Conscious Excelled beings or Mystics individuals who are emerged in the Timeless- Limitless-Awareness (TLA) or Naam conscious of Anhad Naad and Bliss i.e. everlasting constant happiness of TLA. The divine word Panch "ਪੰਚ" is synonymous to Sachiara, bhagat, Guru and BrahmGiani who all are Mystics.
"The religious man believes, the mysic knows" William James
Mystics have excelled themselves in their spiritual efforts with the blessing or Kirpa or grace of Waheguru to go through the life understanding and following a spiritual path and enjoy the egoless blissful state of Oneness where There are no sorrows, only happiness, nothing bad only good, no defeat only success.
ਦੁਖੁ ਨਾਹੀ ਸਭੁ ਸੁਖੁ ਹੀ ਹੈ ਰੇ ਏਕੈ ਏਕੀ ਨੇਤੈ ॥
ਬੁਰਾ ਨਹੀ ਸਭੁ ਭਲਾ ਹੀ ਹੈ ਰੇ ਹਾਰ ਨਹੀ ਸਭ ਜੇਤੈ ॥੧॥
SGGS p.1302
Thus I share a Mystical experience of Blissful Life, full of Divine Love & Blessings.
Bhai Vir Singh
Jagjit K Goel
Bhai Vir Singh was born in Amritsar in 1872 AD in a well-known Sikh family of great scholars from Jhang, Pakistan. His ancestor, Diwan Kaura Mal was an administrator under the Mughal Empire and was known to have played a distinctive role in shaping the history of Punjab in the first half of the 18th Century.
Bhai Vir Singh was an eminent writer, scholar, theologian and a poet par excellence. He undoubtedly belongs in the class of great Indian poets including: Rabinderanath Tagore, Iqbal, Sarogini and Toru Dutt. As these other poets, Bhai Vir Singh too sings praises of the invisible power, the Creator in his poems.
Until the end of the 19th Century, the Punjabi language had no literary status. The learned people of Punjab used either Brij Bhasha or Persian, as languages of expression. In contrast, Bhai Vir Singh chose to write in Punjabi. In doing so, he raised the status of his mother tongue from a mere dialect to a respectable language. Infusing his poetry with philosophies of life, he enriched the formerly neglected language. Bhai Vir Singh also wrote novels, biographies, histories and a commentary of Guru Granth Sahib in 7 volumes. He left his mark on every form of Punjabi literature, a talented writer of both prose and verse.
Bhai Vir Singh's writing is spiritual. Through his literary art, he presents a perfect model of one's self in such a charming way that the temptation of becoming good can hardly be resisted.
With his religious nature and his perfect understanding of Sikhism he was able to produce two beautifully written yet readable biographies of two Sikh Gurus: Guru Nanak Chamatkar and Kalghidhar Chamatkar.
Bhai Vir Singh's dynamic personality, oneness with nature, rich imagination and his love for things noble and beautiful is evident in all his work. He was essentially a Saint Poet. His poems outpour the longing for the Formless, the ultimate reality Waheguru. His most magnificent poem is 'Rana Surat Singh'. It is a great epic poem of over fourteen thousand lines describing the adventure of a soul in search of the self.
Bhai Vir Singh also enjoyed his contact with nature. For him, nature was the outward personality of the divine presence. His avid descriptions of nature moves the reader to the scene he creates with the experience of actually witnessing it.
The beauty of Kashmir's springs ,mountains and flowers had so much gripped his imagination that he recollected the joy he derived from them long after he had seen them, he says-
The heart sorrows when parting from beloved ones
But parting from you, Kashmir, I sorrow not
The treasure that Kashmir gives of loveliness, he adds, is beyond the power of words.
The 'Trel Tupke' (Dew Drops) is a collection of Bhai Vir Singh's poems of purity, beauty and life.
The story of life, he says, is like a wild flower in a lotus pond. Small buds grow, blossom, appear beautiful, spread their fragrance and then die.
'The hand that dropped me ….
I play on the lotus leaf today
Tomorrow I shall be with Him
He drops me and he drove me up …
A dew drop on the lotus leaf.'
In another poem, which is my favourite, He says happiness lies in the Union of human and divine.
| | |
| --- | --- |
| ਸਾਬਣ ਲਾ ਲਾ ਧੋਤਾ ਕੋਲਾ | A piece of charcoal |
| ਦੁੱਧ ਖੁੰਬ ਵਿੱਚ ਪਾਇਆ | I washed with milk and soap in the hope |
| ਖੁੰਬ ਚਾੜ ਰੰਗਣ ਤੀ ਧਰੀਆ | That its black might turn white but no |
| ਰੰਗ ਕਾ ਏਸ ਵਟਾਇਆ | Till it burned in fire it did not glow |
| ਵਛਿੜ ਕੇ ਕਾਲਕ ਸੀ ਆਈ | |
| ਬਨਿ ਮਲੀਆ ਨਹੀ ਲਹਿੰਦੀ | |
| ਅੰਗ ਅਗ ਦੇ ਲਾ ਕੇ ਦੇਖੋ | |
| ਚੜਦਾ ਰੂਪ ਸਵਾਇਆ | |
Bhai Vir Singh was revered 'A Sixth River in the Land of Five Rivers'. When one reads his poems – 'The birth of Ganga' and 'The Search of Jamuna' – one feels as if God has been speaking to him through the voice of powerful streams of the rivers. His poems inspire joy in life, love for God and goodness in man.
The University of East Punjab conferred on him the degree of Doctor of Oriental Learning in recognition of his great personality and service to Punjabi literature. Sahiyta Akademi gave him its first Award for Punjabi letters. He was awarded the Padam Bhushan by the Government of India.
Bhai Vir Singh's life and works will forever remain an inspiration for all of us. His service to his land of birth, Punjab, and his mother tongue, Punjabi are invaluable and everlasting.
Lt Col Pritpal Singh Bakshi – Indian Army
1st May 1926 – 24th October 2012
Narinder Pal Singh Bakshi
My father was born in Srinagar, Jammu and Kashmir. My Grandfather, Rawel Singh Bakshi served in the British Indian Army .He was a Dafedar Major in 32nd Lancers a cavalry unit of the Army and had seen action in Mesopotamia (Iraq). His squadron commander General Sir Cassels rose later to become the C-in-C of the British Indian Army. During his vacations in Srinagar the General made it a point to call my grandfather for a cup of tea. My Grandmother Laxmi Devi was really a Gem of a person, very simple and talented in skills of yester years like knitting, cooking and was knowledgeable about Desi remedies.
My mother Amrit Kaur Bakshi was born in Rawalpindi, Pakistan. Her father, Bakshi Surat Singh, Rais was a Transporter. He started a transport company from Murree- near Rawalpindi to Srinagar. Bakshi Ghulam Mohammed used to be an employee of his company and later became the Prime Minister of Jammu and Kashmir.
After partition in 1947 my Grandparents settled in Srinagar for some time before moving to New Delhi. My maternal Grandfather started Rohtak (Haryana) to Bhavani Transport Company. He was residing at Dev Nagar/Karol Bagh. He passed away in 1957.
Education
My father did his FA (Inter) from Sri Pratap College, Srinagar and apparently got a place in the local medical college but my grandfather could not afford it. He thereafter got selected for Commission in the British Indian Army.
After finishing his Army training he got his first posting to Sind now Pakistan. His first posting unit was 28 Punjab Para Light Ack- Ack Regiment.
In the decade starting 1950 he was posted to Jullundur, Yeol Valley – Himachal Pradesh Agra, Leh and Ladhak, Gangtok – Sikkim, Siliguri – Assam and New Delhi amongst other stations. During this time he did tenure in the prestigious 9Para Regiment, 17Para Regiment, and 50 – Independent Para Brigade in Agra. He did several Para jumps as part of the training.
1964 – 1966 (1965 War with Pakistan)
In 1964 he was promoted to the rank of Lt.Col and took over the command of 49th Air Defence Regiment in Delhi Cantt. At that time we were living on Mall Road of Delhi Cantt. One of the Batteries (Sub Unit) of this Regiment was based in Ambala. During 1965 war with Pakistan brought down a US made Star Fighter Jet of the Pakistan Air Force.
1967 – 1969 – Ranchi, Bihar 1967
In 1967 he took over the command of 6th Field Regiment at Sikkim. Later this Regiment moved to Ranchi, Bihar. Here my grandmother passed away in Ranchi and was given a Grand send-off which was very well attended.
1969-1971 Arty Centre Nasik Road Camp, Maharashtra
In 1969 he was posted to the Artillery Centre Nasik Road Camp, Maharashtra as Commanding Officer of the Air Defence Wing. In 1971 he was posted as Chief Security Officer of the Ishapore Rifle Factory near Calcutta.1973-1976 He was posted back to Arty Centre, Nasik Road Camp as Deputy Commandant from where he retired in May 1976.
Carrot recipes all the way from Pothohar
Jagjit Kaur Goel
We all know about carrots and their reputation for promoting our vision. When we were young, our mothers made sure that we ate carrots often.
Surprisingly one can find white and red carrots as well as the most widely used orange variety.
Carrots are antioxidants and rich in minerals, vitamins and fibre. They are also loaded with sodium, potassium, magnesium and calcium, vitamins A,C, D and B6 and beta carotene. These properties promote a healthy blood pressure and heart, as well as radiant skin and healthy eyes.
RECIPES
Carrots are a versatile vegetable and can be cooked in both sweet and savoury dishes.
JUICES, SALADS, KHEER
JUICES
Provide instant vitality and energy
Preparation:
Peel and cut the vegetables
Pass through a blender or a liquidiser until smooth
| | | |
| --- | --- | --- |
| Juice 1 | Juice 2 | Juice 3 |
| 2 Carrots | 2 Carrots | 3 Carrots |
| 1 Apple | 2 Tomatoes | 3 Apples |
| 1 Orange | 1 Kiwi Fruit | Small Beetroot |
| 1 sq inch Ginger | Handful Spinach | |
| | | |
Click here for additional recipes
Member News
Ranjit Singh Uppal Appointed District Judge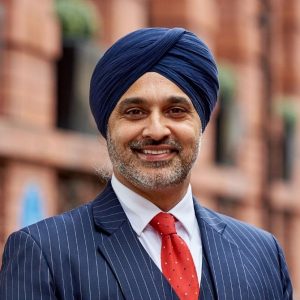 Congratulations to Ranjit Singh Uppal who has been appointed by the Queen as a District Judge in the North East based at Doncaster County Court
In 1997 he became the first Sikh Solicitor in Huddersfield. Ranjit has also served as President of Huddersfield Law Society (making him the youngest and first Asian president in its 126-year history) as well as carrying out Pro Bono projects in Brazil, Uganda, Paraguay and Ghana, all relating to Child Care Law. His international training has been with SFAC (Strengthening Families for Abandoned Children). He was recognised nationally as Solicitor Advocate of the Year at the Law Society Excellence Awards in 2016.
Wedding of Ganeev & Amanbir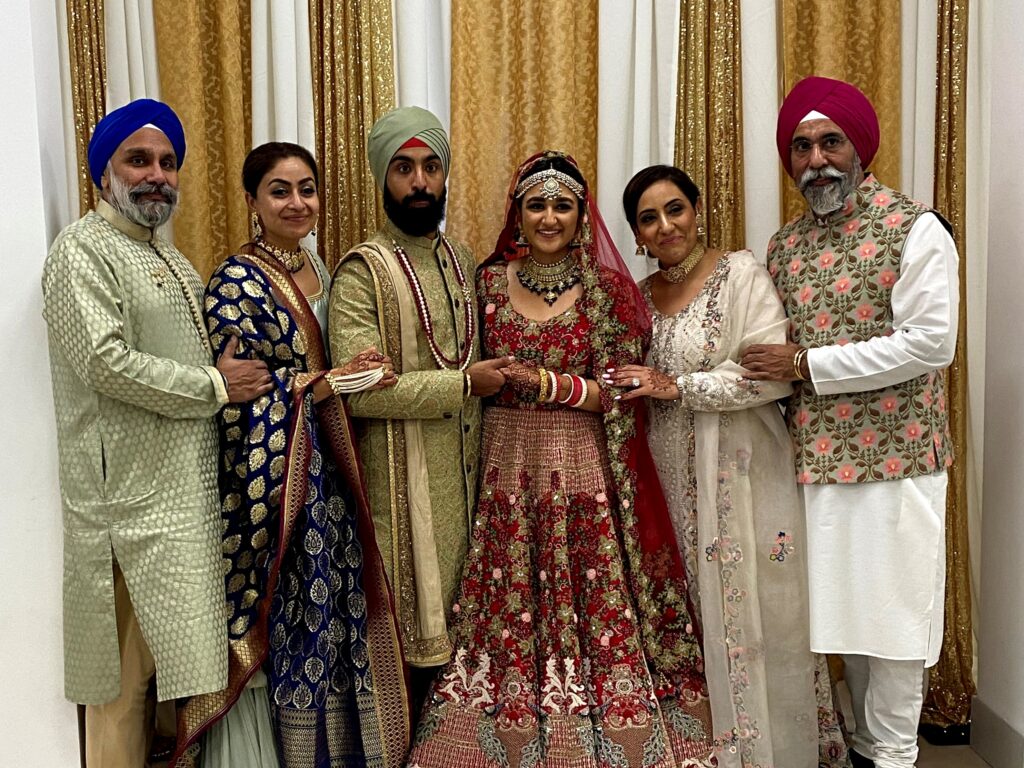 Ganeev Kaur, daughter of our General Secretary, Bhupinder Singh Bhasin and Gurleen Kaur Bhasin was married on 24 October 2020 to Amanbir Singh Sawhney, son of Harpreet Singh and Gurjit Kaur Sawhney. As the wedding took place during Covid-19 restrictions just 15 guests were allowed to attend the ceremony, however the ceremony was streamed live on YouTube and over 200 friends and family tuned in to watch the wedding from the comfort of their homes.
Book Reviews
The British and the Sikhs: Discovery, warfare and friendship c1700-1900. Military and social interaction in Imperial India (From Musket to Maxim 1815-1914)
Gurinder Singh Mann
Publisher : Helion and Company
Review by Daljit Singh Makan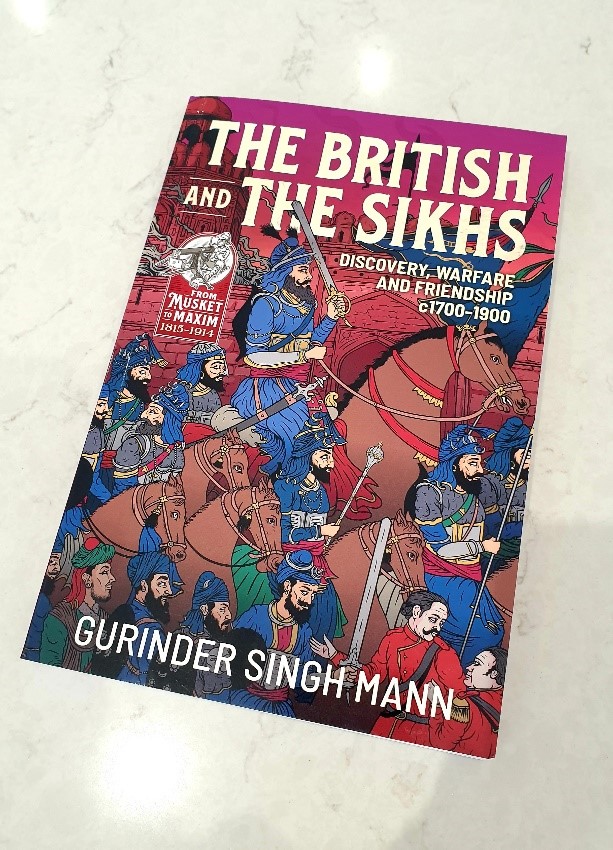 Friendships, relationships and bonds are rarely as straightforward as they seem. The relationship between the British and the Sikhs is one such example. From the battle fields of the Punjab to the battle fields of the Great Wars to the migration of Sikhs to the UK in search of a better future. Each chapter in this long association spanning centuries tells an interesting story of ups and downs, betrayal, camaraderie and mutual respect.
I had the great pleasure of hosting the online launch of Gurinder's book 'The British and the Sikhs' in May and since then the book has gone on to become a great success, winning acclaim from across the globe. It is easy to see why.
As with Gurinder's previous works, his dedication, passion, in-depth research and clear writing style shine through. The book is rich with fascinating illustrations, anecdotes and first-hand accounts and provides us with a vivid understanding of the personalities and events that shaped and forged the socio-political and socio-religious Anglo-Sikh landscape from c1700 to 1900.
Thanks to Gurinder, we now have a better understanding than ever of this fascinating period of Indian history. I heartily commend this gripping and well-written book.
The book can be purchased from Helion
---

THE LOST HOMESTEAD: My Family, Partition and the Punjab
Marina Wheeler
Publisher: Hodder & Stoughton
Review by Bhupinder Singh Bhasin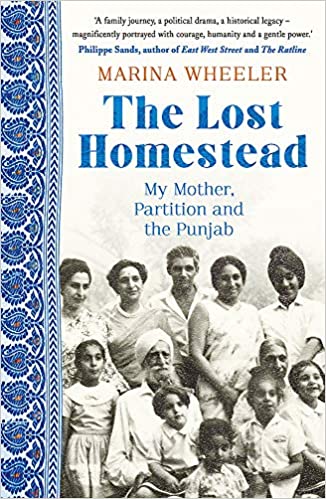 Many years ago I heard an interview with Boris Johnson, before he became Prime Minister, in which he said that his children are 1/4 Sikh. I immediately wanted to find out how this was true and found that he was married to Marina Wheeler, a successful barrister, and they had four children together. It turns out that Marina's mother was Dip Singh (Kuldip), who in 1961 married the distinguished BBC journalist, Sir Charles Wheeler, who was once based in Delhi. Dip had previously been married to Khushwant Singh's youngest brother, Daljit Singh.
Over the last few years there have been several books written about Partition, however Marina's book is a personal account of partition and the time after based mainly on conversations with her mother and other family members. She has cleverly entwined these personal accounts with carefully researched historical accounts and has also included a analysis of contemporary India through her own eyes.
This book was the result of Marina being asked to review the film, Viceroy's House, directed by Gurinder Chadha and conversations with her children after watching the film.
To research the book she visited India and Pakistan to discover her roots. She visited Sarghoda, in Pakistan where her mother was born and brought up, but unfortunately could not locate her Grandfather, Harbans Singh's (Papa Ji's) house. She also visited and interviewed members of her extended family in Delhi, Kasauli and Mumbai.
Her mother Dip Singh was born to a well to do Sikh family in Sarghoda, in West Punjab.
A highlight of the book was the heartfelt account of visitors to their house in June 1947 urging her Papa ji to leave for Delhi, and thus her family locked up their home, paid their servants a months wages and left only carrying with them fruits and ghee, as they fully expected to be back. Her Papa ji was of the view that they had lived side by side under British rule, so why could they not live under Muslim rule. However, after partition her mother recalls that many families that remained converted to Islam, but her family could not consider conversion.
Her family arrived in Sujan Singh Park, Delhi during June 1947. She explains how her Papa ji was never the same man after partition although he never expressed any bitterness about partition. Her mother recalls that her parents visited Nankana Sahib after partition. They were not allowed to go to Sarghada, but some of their Muslim friends met them bringing some of their possessions such as medals and photographs.
The Lost Homestead is a good read and I hope it will be read by many who do not know so much about Partition and its effects on millions of families.
The book can be purchased from Amazon
Obituaries
Daljit Kaur Chandhyoke 1933-2020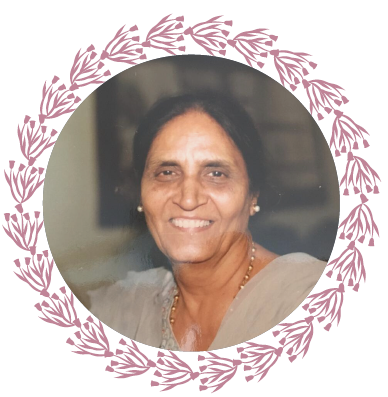 She always enjoyed networking and meeting people and was happy to support anyone in need. Our lasting memories of Mum are simple: a hard-working, passionate figure of strength who never waned in her support or love for her family and who soldiered on, even when times were tough.

Daljit Kaur, 87, of Delhi passed away on 19 November 2020 in Delhi, India.

Daljit Kaur was born in Rajouri, Jammu & Kashmir on 2 November 1933. She was married to Dr. Manmohan Singh who was a professor of Botany in Delhi University and who died in
November 2002.

She will be truly missed by her children, Tejinder Singh Chandhyoke, Mahinder Singh Chandhyoke and Gurminder Kaur Sethi, six grandchildren and three great-grandchildren.
May the departed soul rest in peace.