Contents:
Presidents Message
Pothohar Di Dunya by Jagjit Kaur Goel
My Lockdown by Amarjit Kaur Bakhshi
Turning Back the Clock?
Recognise the Human Race as One by Bhupinder Singh Bhasin
The National Health Service by Tejinder Chandyoke
Pilgrimage and the Sikh Faith by Jagjit Kaur Goel
Poem – A Half Written Letter by Ammad Ali
The Solar Eclipse: A Magical Formation and the Notion of Sutak by Ishmeet Kaur Chaudhry
Mushroom recipes all the way from Pothohar by Jagjit Kaur Goel
Obituaries: Bhai Bhagwant Singh by Rajinder Singh Bhasin
Feature Article: Ram Singh Inventor and Master of Sikh Architecture by Dr SS Bhatti
Presidents Message
Dear Pothoharis
Your Executive Committee completed its first year in office in the month of June.
The committee saw two new faces: Mr Bhupinder Singh Bhasin as General
Secretary and Mr Raminder Singh Chowdhury as Executive Member. Both are very
active members of our team.
We have built on our traditional programme and developed an innovative set of
activities and events, which resonated well with our members. The Pothohar Times,
the quarterly digital voice of our community, was one such initiative and it has
received positive feedback from our membership. The publication is into its fourth
issue and we want to involve all our members in this – young and old.
We were really looking forward to celebrating our Golden Jubilee in 2020 in a big
way; unfortunately Coronavirus has put a dampener on that ambition . However, that
does not mean that we have been inactive. Far from it! Some of our activities during
the past year are:
 We held our Sports Day and Barbecue at Osterley cricket ground which had a
great turnout. Everyone had a wonderful time.
 In October 2019, we held our annual B M Singh Memorial Lecture. It was
delivered by Professor Rajkumar Hans, a retired professor of History, who is
undertaking relating to subaltern groups of Punjab and their history in Sikh
tradition. He spoke on '550 Years of Reformation: Guru Nanak's Commitment
to an Equal Society'.
 We also organised a Health Seminar, which had two talks: the first was on
"Looking After Your Heart" by Dr Navtej Singh Chahal, who is a consultant
cardiologist at London Northwest Health NHS Trust, an Honorary Consultant
at Royal Brompton Hospital and an Honorary Senior Clinical Lecturer at the
National Heart and Lung Institute, Imperial College London. The other talk
was by Peter Chadha, was on the use of Vitamins.
 Soon afterwards, the UK went into lockdown. We held our monthly executive
meetings on Zoom and released four videos with vital information on Covid-19
and how to stay safe during this difficult period.
 A group of volunteers was established to help those who needed help during
the lockdown. This included helping to source and deliver key items such as
groceries and nappies. We were humbled and proud of the generous
response from our members.
 Realising how isolating the pandemic could be, we organised virtual lectures
and set up a dedicated Pothohar Association YouTube channel where these
can all be viewed. We had speakers from India , Pakistan and the UK; we are
also currently in discussions with other potential speakers across the world.
The topics we have touched upon are wide ranging and include current affairs
and health-related matters. Please do visit our YouTube Channel to access
these. We plan to put all the content of the events and talks we hold, on this
channel, so that members can easily access it.
 We are committed to looking after not only our own members but the
community as a whole. We gave grant of £200 to the Pothohar Cricket Club
and donated £2,500 worth of goods to Central Gurdwara Shepherd Bush, £1,100 of which was contributed by some members of our Executive
Committee.
In addition to continuing some of the initiatives above, we are also working on the
following:
 Filing our application for Heritage funding to make an hour-long documentary
on 50 years of Pothohar Association. We have partnered with Wolverhampton
University to carry out research work, tracing our history and journey to the
UK, e.g., some of us migrated to East Africa and then came to the UK, others
directly from India. We would like to learn more about these historic events.
 Planting a tree in Borough of Harrow to celebrate 550 Years of Guru Nanak.
We will soon be writing to you all asking for suggestions for a suitable
inscription to put on the plaque.
We are revising our current constitution; it has served us well, but to be compliant we
need to ensure that is consistent with the up-to-date regulations of the Charities
Commission , A draft of this revised constitution will be circulated to all members for
consultation, before being submitted for approval at our next AGM. The current
easing of lockdown gives us hope that we can hold our AGM in October.
Meanwhile, I wish that you and your families stay safe and well.
I would like to end by thanking you all for your support during the past year and
especially during these past four months.
Yours sincerely
Chanchal Singh Chowdhry
President
We hope you enjoy this issue of the magazine and invite you all to contribute articles for the next issue.
---
Pothohar Di Dunya
Jagjit Kaur Goel
The Indo Aryan Language spoken on the Pothohar Plateau is known as Pothwari or Pothohari. This includes the Rawalpindi, Jhelum and Chakwal areas. Pahari and Mirpuri languages are quite similar to Pothwari.
Pothohari is described as a ਮਿਠੀ ਬੋਲੀ (mithi bolee) or a 'sweet language'. I think this is because we use 'san'-endings for the future tense.
For example:
| | | |
| --- | --- | --- |
| Pothohari | Standard Punjabi | English |
| ਮੈ ਕਰਸਾਂ Mai Karsan | ਮੈ ਕਰਾਂਗਾਂ Mai Karanga | I will do |
| ਤੁਸਾਂ ਕਰਸੋ Tusan Karsoh | ਤੁਸੀ ਕਰੋਗੇ Tusee Karoge | You will do |
| ਅਸਾਂ ਕਰਸਾਂ Uhsan Karsan | ਅਸੀ ਕਰਾਂਗੇ Uhsee Karange | We will do |
| ਓਹ ਕਰਸਨ Oh Karsan | ਓਹ ਕਰਨਗੇ Oh Karange | They will do |
Also the genetic marker of Pothohari is ਨਾ (Na) as opposed to ਦਾ (Da) in Standard Punjabi.
| | | |
| --- | --- | --- |
| Pothohari | Standard Punjabi | English |
| ਲੋਕਾਂ ਨਾ Lokan Na | ਲੋਕਾਂ ਦਾ Lokan Da | Of the people |
ਸ (s) ਨ (N) replace ਗ (g) and ਦ (d), and it makes all the difference.
My granddaughter is quite amused when I say things differently from normal spoken Punjabi. It seems we have our own charming way of saying simple things.
| | | |
| --- | --- | --- |
| Pothohari | Romanised | English |
| ਰੋਟੀ ਰੂਟੀ ਖਾ ਲਈ ਨੇ? | Rotee rootee kha laye ne? | Have you eaten? |
| ਰੋਟੀ ਗਰਮ ਗੁਰਮ ਕਰ ਕੇ ਖਾਈਂ | Rotee garam guram kar ke khaeen | Heat your food before eating |
| ਪਾਣੀ ਪੁਣੀ ਪੀ ਲਈਂ | Parnee purnee pee layeen | Have something to drink |
| ਚਾਹ ਚੂ ਪੀ ਲਈ ਪੁਤਰ? | Cha choo pee laeyn putar? | Have you had tea puttar (affectionate term)? |
| ਸੈਰ ਸੂਰ ਕਰੀ ਆਵਾਂ | Sehr soor karee ahvan | I'm going for a walk |
| ਬਣੀ ਬੁਣੀ ਕੈ ਨਿਕਲਣੀ | Banee bunee ke niklnee | She dresses up very well before going out |
| ਬਹੁਤ ਬੋਲ ਬੂਲ ਕਰਨੀ | Bohat bol bool karnee | She speaks very much unnecessarily |
| ਹਕੀ ਬਕੀ ਰਹੀ ਗਈ ਹਾਂ | Hakee bakee rahee gaye han | I can't believe it |
| ਨਜ਼ਰ ਨੁਜ਼ਰ ਮਾਰੀ ਆ | Nazar nuzar maree aa | Go check |
| ਭੁਖੀ ਭਾਣੀ ਬੈਠੀ ਹਈ | Bhukhee bhanee bethee haee | She's sitting hungry while waiting |
Thank you for reading.
I hope you enjoy using these phrases and I look forward to finding more for the next issue.
---
My Lockdown
Amarjit Kaur Bakhshi
Two days before lockdown our adult granddaughter came to live with us. This happy event became our life saver. She was our shield and support in our time of need. Putting our needs ahead of hers at all times.
Having more time together, even whilst she was working full time from home, meant that we could become absorbed in new hobbies and learn new skills from each other and together. This ranged from learning more about the internet, cooking from different cuisines, embroidery, completing jigsaw puzzles, enjoying playing board games and reading books we wouldn't have thought to read to name a few. Doing all these activities together kept us mentally well. Although isolated, we never felt alone.
At a deeper level, we felt useful and fonts of knowledge in the eyes of our granddaughter. We had time to teach her about our culture, language and our family history. We believe that this gave her some solid grounding in these turbulent times.
Even during lockdown we celebrated special events such as the weekly clap for carers and VE day. For VE day our granddaughter made a special garden tea party. We all dressed up and enjoyed the clean air! This brightened up our lives by bringing joy to us, a feeling sadly missed when hearing about human loss and suffering during these times.
We felt inspired by our NHS heroes so we wanted to use our skills to somehow brighten up their days. We decided to make hair scrunchies for staff and patients. Our granddaughter arranged through friends to have them sent to a London hospital where they were gratefully received. So in a way we did try to do our bit.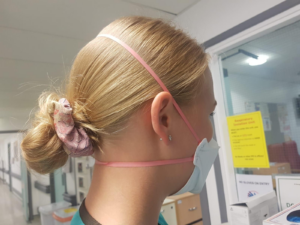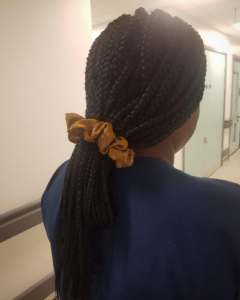 We have been blessed to have had this time with our granddaughter, to have been able to provide continuity for her and to be able to make her life a little easier. We are so grateful for her love and kindness towards us during these unprecedented times. Without this mutual support, loneliness, isolation and poor mental and physical health may have shortened all of our lives.
Still in some sort of lockdown and having had time to reflect on our lives made us think about our legacy for our family. One thing that I have done is embroidered a lockdown book and banner from my youngest granddaughter's drawings for future times. She will be able to see it, touch it and remember these times. She will also remember our love for her, even when she cannot see or touch us, sadly either now during lockdown or in the future when we are not here. How precious is the thought of the last time we held her hand and she held ours.
But some questions remains in our thoughts because of the danger we faced with this virus. Did we do enough with our lives? Do we have any regrets to put right? What will our legacy say about us? And when we have those answers we will know who we have been.
So perhaps that is something to ponder on having survived lockdown 2020.
---
Turning back the clock?
I have, in the past few days, received several emails from friends, asking me for my views about the demands to pull down statues and change the names of institutions named after people with links to the slave trade.
At the start, I must say that I do not agree with changing names of cities, streets etc., and that is why I still refer to it as Bombay, rather than Mumbai. Recently, the Indian authorities wanted to (and probably have done so) rename a very well-known street in Delhi from current Aurangzeb Road. Aurangzeb was a despotic Mughal emperor (and universally acknowledged as being so), who killed thousands and forced many more to convert to Islam. I should have sympathy with the name change, but was opposed, as I do not believe in erasing history.

On the matter of slavery, I am torn; it is an issue about which, black people are understandably sensitive. I hear their reasons and have sympathy with them, but I also have my own views which can be summed up by, 'history happened and you cannot wish it away, by erasing it'. Having said that I have always been concerned that a tiny affluent minority in our society, has been able to buy respectability amongst 'sympathetic' populations; that practice continues to this day. Rewarding political donors with titles falls into that category, where people with dubious pasts are 'honoured' for their subsequent 'charity'. Jeffrey Archer is still a peer and Philip Green continues to be Knight of the Realm. We could all, list many, many more.
It is one thing not to erase history, however awful; quite another to celebrate it by putting up statues eulogising them. My answer to all these controversial statues is to put them in a dedicated park (or a museum), and name that museum/park appropriately, so it does not smack of celebration or veneration; a rogues gallery, if you like! Sadly, in present-day society, you can be a villain one day and buy instant respectability the next.
On the matter of name changes to institutions, I do not believe it necessary. This view was expressed more eloquently by a friend who was consulted on changing the name of a school because the Foundation that gave it money was named after a slave trader. He responded by saying that "the charitable and philanthropic actions of the Foundation could be seen as a major act of atonement by the Founder. To change the name of the School would draw attention to actions of the Founder and not the Foundation, so should be resisted." For the record, he is an anti-racism campaigner!
However for the record, it is worth stating that these slave owners were pursuing, what was then a legitimate trade, amongst Africans. The slaves were the property of local tribal leaders who exchanged them for goods; this business, for centuries, was common all over Africa and the Middle-East. When West Africa was opened up by Portuguese, other European countries joined in the lucrative trade.
Therefore, say the apologists, we should not judge 17th century actions, through the prism of 21st century values. My answer to that is that values change and we must acknowledge that; besides I would suggest that the values have changed for the better.
Currently people like Colston get a free ride in terms of their crimes, whilst being celebrated for their good works. Slavery is abhorrent and understandably, a sensitive and emotive issue for people from Africa; we need to acknowledge their feelings on this. No one is all good or all bad, so we also should not expect that those 'heroes' to be blameless in every aspect of their lives; none of us are. Baden Powell, the founder of the Scouts movement, falls into that category. He may have had some pro-Hitler sympathies, but so did many others at the time; not least some members of the then Royal family and several politicians. It would be a pity to see his good works, being erased from history.
Coming back to the present, I believe that what was needed was an acknowledgement from society, that some people like Colston, were flawed heroes and, whilst we acknowledge their later charity, we unequivocally, condemn their earlier involvement with slavery.
As far as law and order is concerned, there is no question that we must enforce it. As in all such cases, anti-social and criminal elements take advantage of the situation. That must not be allowed. However, policing is loaded against Black, Asian and Minority Ethnic (BAME) communities and, both the reality and perception need addressing. I must however stress, that this is only based on reported statistics and observations in the media; my personal experience has always been a positive one.
As I said earlier, we should neither rewrite history, nor erase it. Every society has its dark periods and episodes – no one is 'whiter that white'; not Africans, Asians, Americans, Australians or Europeans. The United Kingdom is, generally speaking, made up of fair-minded and decent people. Post-2016 (Brexit, for those who have forgotten), this assumption has been tested and has led to the election of the most right-wing UK government in the past century. That notwithstanding, we are a fair and tolerant society and I want to continue believing this and working to keep it so.
We need to find a way to draw a line under the current events in our society and move forward. We cannot, and must not, be held back by history. It is a difficult issue. There are no easy answers, just more questions. There is a very nasty right-wing in America and we must guard against such tendencies in the UK. Brexit has already torn apart the country (whatever people's views on the matter); we can do without racial strife to boot. There is a danger that we too, could be tipped over the edge.

Finally, I think there has been a failure of leadership. The government has talked more about protecting Churchill's statue (important as it is), than the fact that so many of the population feel a sense of hurt and that there is a need to bring people together. The country is reeling from COVID, an economy in freefall and Brexit. Can we really afford to alienate a significant part of our population at the very time when we all need to work as one to repair our communities?
---
Recognise the Human Race as One
"Black Lives Matter", we have all been hearing this slogan over the last few weeks in response to the killing of a Black man in the USA by a police officer. What has this got to do with us? Well we all have a duty to stand up for the down-trodden. Some people respond to the slogan with "All Lives Matter", yes of course all lives matter, but I think there is an important distinction. The experience of Black people in North America and in Europe has been decades of racism, oppression and denial of opportunity. This has led to a vicious circle from which only a small number of Black people escape. Personally, I feel that the situation is perpetuated in the United States as still there are certain "ghettos" or no-go areas in some cities. Those that are born into such areas have very few life chances and so this leads to higher incidences of crime which the majority population automatically associate with the Black community, thus perpetuating racism.
So, yes, it is important to support the Black Lives Matter slogan, for only when each person in a society has an equal chance to lead a "normal" life will we be able to say "All Lives Matter" and we will truly see the vicious circle broken.
ਮਾਨਸ ਕੀ ਜਾਤਿ ਸਬੈ ਏਕੈ ਪਹਿਚਾਨਬੋ ॥
manas ki jat sabhe eke paihcanbo
recognise all of mankind as One caste/race
Guru Gobind Singh
Although there are laws against racism, it clearly still exists. There are many types of racism. In the UK the Metropolitan Police was found to be institutionally racist following the murder of Stephen Lawrence. This institutional racism exists throughout our society and sadly is deeply engrained.
Yes, great strides have been made in society. I was born and brought up in London and grew up in the 1970's and 80's and experienced racism in many forms. Whether it was name calling; having my turban or patka being pulled off; to seeing "pakis out" graffiti on the walls of the Gurdwara. Luckily, I trust that my daughters will not have to experience the things that many of us have endured. Today, we live in a society where we like to think that racism is dead, but clearly it is not. Every now and then we are reminded of its existence. Sometimes it is very subtle in the form of a glass ceiling at work or other times quite worrying such as seeing the behaviour of counter protestors to the BLM marches shouting "go home" or much worse….
The core of Sikh philosophy is "One-ness", recognising that we are all part of One creation. The Gurus, destroyed the prevalent caste system of the time and today we must continue their mission destroying all forms of racism and inequality. Sadly, Indian society still perpetuates the caste system. None of us is born with any prejudice, but inadvertently we seem to teach it, whether it is though language or actions. It seems natural for communities to stick together, but we must never perpetuate an attitude of them and us. The remnants of the caste system still exist, but we must see all groupings as equal and not perpetuate any ideas of superiority.
---
The National Health Service
Tejinder Chandhyoke
NHS is the umbrella term for the publicly funded healthcare systems of the United Kingdom.
On 5 July 2020, it was 72 years since the NHS and social care system was established.
On 5 July 1948, the NHS was launched by Aneurin Bevan, Minister of Health, at Park Hospital in Manchester (known today as Trafford General Hospital).
For the first time, hospitals, doctors, nurses, pharmacists, opticians and dentists were brought together under one umbrella to provide care for free.
Since then, the NHS has transformed the health and wellbeing of the nation. The NHS has delivered huge medical advances and improvements to public health, meaning we can all expect to live longer, healthier lives.
2020 has been the most challenging year in NHS history. This year, the birthday is an opportunity to recognise, reflect and remember.
Over the last few months staff have worked around the clock to tackle coronavirus – caring for the 100,000 patients with COVID-19 who needed specialist hospital treatment and treating countless others besides, redesigning services and creating backup Nightingale hospitals.
None of this would have been possible without the help and support of countless individuals and organisations around the country.
Everyone across the NHS is hugely grateful to the thousands of former doctors, nurses and other health service staff who came out of retirement to battle coronavirus, the fellow key workers – from bus drivers and refuse collectors to social care staff and teachers – who kept the country running and, of course, all those who stopped the spread of the virus by following the expert advice and staying home to save lives.
Everyone has had a part to play and, in the most difficult days, frontline workers were sustained by the support of the public.
Personally, I have my own experience during this challenging period as my son is a frontline doctor at one of the key London hospitals.
Since he was in direct contact with the Covid-19 patients with odd and extremely long hours to work hence he made the precautionary decision not to visit us for nearly 4 months so as to keep us safe. He mentioned that being so occupied there was no time to go and get food and other basic daily necessities.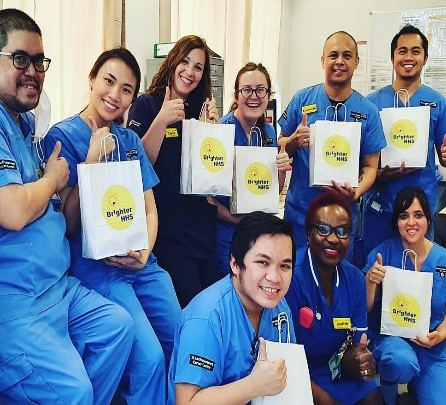 My daughter engaged with an organisation first to raise substantial donation funds and subsequently arrange daily meals to be delivered at some of the key London hospitals. I monitored the inflow of the donations and regularly updated on the status of the funding. We had regular requests from the hospitals for some personal hygiene products. I also managed to secure a large quantity of personal hygiene products from a pharmaceutical organisation.
I must say that each delivery was acknowledged with huge gratitude and this was very satisfying for us all involved in this initiative.
Thanks to businesses large and small who also came out in force to help. To the supermarkets who created dedicated times for our NHS people to shop and companies who provided NHS staff offers across a wide range of products and services including food, transport and accommodation – it's been greatly appreciated. Thank you to all the businesses which donated products to the NHS and to those companies which even changed production completely to make essential items such as hand sanitiser and PPE.
One of the positives that has arisen out of the pandemic is the sense of community, support and collective effort that has been demonstrated across the country. Receiving all the offers of help and donations, as well as the public displays of support, has been a huge lift all our NHS people.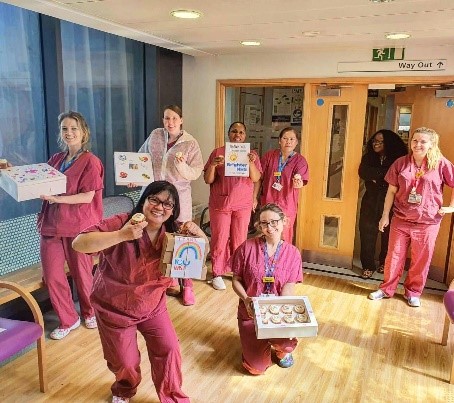 What are the Main Challenges Facing the NHS?
Some of the key challenges currently facing the NHS are:
An ageing population
A growing population
Evolving healthcare needs, such as the increase in cases of obesity and diabetes, or antibiotic resistance.
Medical advancements save lots of lives every year, but push up costs considerably. It is estimated that progress in medical technology costs the NHS at least an extra £10bn a year.
Closure of local services due to centralisation drives
An increase in reliance on privatised services
The Nuffield Trust (from this report) estimates that the ageing and growing population alone could mean we need another 17,000 hospital beds by 2022 — and that's just hospital beds. The number of doctors, nurses, other staff and equipment all have to meet demand.
How are the Challenges Facing the NHS Being Met?
Economically, the NHS has always been a battleground, as governments fight to secure the future of the NHS whilst being cost-efficient.
One of the solutions is to move patient care out of hospitals and into clinics in GP surgeries and in the community. But this takes a toll on hospital incomes, driving more and more of them into debt. Some hospitals trusts have even been put into administration over the last few years.
Centralisation of services is one way the government tried to redress funding issues. But this means closing some local services like A&E and maternity units.
What is the New Government's Approach to the Challenges Facing the NHS?
The current Conservative government has pledged an extra £8bn in funding by 2020, which is the minimum amount NHS England boss Simon Stevens says it will need in order to survive. They will also:
Save money by cutting more of the social care budget
But slightly increase funding for mental health
Attempt to decrease waiting times by guaranteeing access to a GP seven days a week, and appointments within 48 hours for the over-75s
However, they will not reduce the cap on the amount of income NHS Trusts can generate from private patients, which could have a detrimental effect on waiting times and pressure on services
Get involved – Volunteering
Why volunteer?
Many NHS organisations and charities need help from volunteers. This is a great way to get involved in the community. There are volunteer centres across the country, and many NHS trusts have volunteer managers you can contact if you want to find out about volunteer opportunities in your area please use the link as below
https://www.england.nhs.uk/participation/get-involved/volunteering/
---
Pilgrimage and the Sikh Faith
Jagjit Kaur Goel
A religious pilgrimage is a journey taken by devotees to a place of holy significance in pursuit of their religious realisation.
Pilgrimage is of central importance to the followers of many different religions. For example, the visits taken by Muslims for Hajj (to Mecca) or the journey of Jews to Jerusalem, are considered to be of utmost importance. Hindus also have their 68 holy cities for pilgrimage in order to wash away their sins. In the Gurus' times, pilgrimage was not a matter of choice, it was undertaken to pave the way to one's salvation. Sikhism on the other hand, does not require the practice of pilgrimage and rejects it as a method to obtain religious realisation.
The purpose of Guru Nanak to visit the Hindu and Muslim places of pilgrimages was to meet the devotees and learn their religious beliefs and practices. He then explained and demonstrated the futility of such journeys and showed that the true path to God realisation did not require such rites and rituals.
Guru Nanak Dev Ji says:
ਸੁਣਿਐ ਸਤੁ ਸੰਤੋਖੁ ਗਿਆਨੁ ॥ ਸੁਣਿਐ ਅਠਸਠਿ ਕਾ ਇਸਨਾਨ ॥
Suniai sath santhokh giaan ॥ Suniai athsath kaa eisnaan॥
By listening to the praises and attributes of God you get into the state of blissful happiness that you seek in bathing at the holy shrines.
~ SGGS Japuji Sahib Pauri 10
ਭਰੀਐ ਹਥੁ ਪੈਰ ਤਨੁ ਦੇਹ ॥ ਪਾਣੀ ਧੋਤੈ,ਉਤਰਸੁ ਖੇਹ ॥
Bhareeai hathh pair than dhaeh ॥ Paanee dhothai outharas khaeh ॥
Dirt on hands, feet and body can be washed away with bathing.
ਮੂਤ ਪਲੀਤੀ ਕਪੜੁ ਹੋਈ ॥ ਦੇ ਸਾਬੂਣ ਲਈਐ ਓਹੁ ਧੋਈ ॥
Mooth paleethee kapar hoe ॥ Dhae saaboon leeai oh dhoe ॥
Dirty clothes can be washed away with soap.
ਭਰੀਐ ਮਿਤ ਪਾਪਾ ਕੈ ਸੰਗਿ ॥ ਓਹੁ ਧੋਪੈ ਨਾਵੈ ਕੈ ਰੰਗਿ ॥
Bhareeai math papa kai sang ॥ Oh dhopai naavai kai rang ॥
But filth of mind can only be washed by remembering and loving God.
~ SGGS Japuji Sahib Pauri 20
Here, Guruji refers to listening, learning and singing Gurbani as spiritual bathing. He says that walking on the true path, guided by the Guru's word is the way to salvation, not bathing at holy cities.
ਤੀਰਥ ਵਰਤ ਸੁਚਿ ਸੰਜਮੁ ਨਾਹੀ ਕਰਮ ਧਰਮੁ ਨਹੀ ਪੂਜਾ ॥
Theerath varath such sanjam nahee karam dharan nehee puja ॥
Pilgrimages, fasts, purification, rituals or religious ceremonies are of no use.
ਨਾਨਕ ਭਾਇ ਭਗਤਿ ਨਿਸਤਾਰਾ ਦੁਬਿਧਾ ਵਿਆਪੈ ਦੂਜਾ ॥
Nanak bhae bhagath nisthara dhubidha viapai dhooja ॥
Emancipation comes only by loving devotional worship of God. Practicing these useless rituals can lead one astray from the path of God realisation.
~ SGGS M1 Page 75
ਅੰਮਿਰਤ ਨੀਰੁ ਗਿਅਨ ਮਨ ਮਜਨੁ ਅਠਸਠ ਤੀਰਥ ਸੰਗ ਗਹੇ ॥
Anmrith neer giaan man majan athsath theerath sang gehae ॥
Guru is the theerath( the holy place) and the shabad we get from Guru is the sarovar (the pool). The illuminated mind, immersed in the spiritual knowledge is the bathing in the 68 theerath.
ਗੁਰ ਸਮਾਨਿ ਤੀਰਥ ਨਹੀ ਕੋਇ ॥ ਸਰੁ ਸੰਤੋਖੁ ਤਾਸੁ ਗੁਰੁ ਹੋਇ ॥
Gur samaan theerath nehee koe ॥ Gur samaan theerath nehee koe॥
The Guru's teachings are like jewels in deep waters. A Sikh who goes to the Guru (theerath), for pilgrimage has the possibility of uniting with God.
~ SGGS M1 Page1328
Subsequent Gurus followed the same principles. For example, Bhai Lehna Ji would take annual pilgrimages to Hindu holy centres. After meeting Guru Nanak, he saw the futility of visiting these places and he gave up these trips. Later, he became the second Sikh Guru. The same happened to Guru Amardas Ji. After meeting Guru Angad Dev Ji, he too realised that pilgrimage was not the way to realise God and he did not go again. In SGGS he says many times that the only way to become one with God is to take an inward journey towards our heart.
Guru Amardas ji constructed a baoli (a well), at Goindwal to provide water for people who had come to settle in the new town. Some Sikhs believe that Guruji intended it to be a site of pilgrimage, so Sikhs could bathe here to wash away their sins. This is not true. It was not meant to be a place of pilgrimage. In none of his compositions does Guru Amardas ji recommend Sikhs to bathe at Baoli sahib for salvation. In fact, there are many shabads in SGGS where he condemns pilgrimages argues that the filth of egotism cannot be washed away by bathing at holy shrines (SGGS Page 39).
Again on SGGS Page 425, he adds, everything is within the home of your own self. Nothing beyond it. On page 753 SGGS, Guru Amardas Ji says the listening to the word of the Guru's Shabad is the real sixty eight sacred shrines of pilgrimage. By immersing oneself in the Guru's shabad, filth of the mind can be washed away.
Guru Ramdas Ji, constructed the sarovar (pool) at Harmandir Sahib. Like Guru Amardas Ji, he did not intend it to be a place of pilgrimage. In fact, the last four Gurus did not even visit Harmandir Sahib.
ਰਾਮਦਾਸ ਸਰੋਵਰ ਨਾਤੈ ॥ ਸਬ ਉਤਰੇ ਪਾਪ ਕਮਾਤੈ ॥
Raamdas sarovar naathae॥ Sabh outharae paap kamaathae ॥
~ Guru Arjan Dev Ji, Page 625 of SGGS
This shabad is often misinterpreted. When we translate this shabad we must remember that there is an extensive use of allegories and metaphors in Gurbani. In this shabad, Ramdas Sarovar refers to the assembly of devotees (Das) of the Almighty (Ram), and not to the physical sarovar constructed by Guru Ramdas. The divine name is water of the sarovar (Prof Sahib Singh in Siri Guru Granth Sahib Darpan)
Guru Arjan Dev Ji also uses the word sarovar in other places in SGGS, to denote the company of holy people. For example:
ਸੰਤ ਸਰੋਵਰ ਨਾਵੈ ॥ ਸੋ ਜਨੁ ਪਰਮਗਤਿ ਪਾਵੈ ॥
Sant sarovar naavai ॥ So jan param-gath paavai ॥
One who bathes in the gathering of holy men that person attains supreme status.
~ Guru Arjan Dev Ji, Page 623, SGGS
To conclude, it is clear that the Sikh Gurus provide clear and simple guidance for Sikhs regarding pilgrimage. The Sikh faith believes that Pilgrimage we take is the spiritual journey towards the awareness of God. This requires using love and service to others, to lead a life of moral and ethical value. It is an internal journey, within our own hearts and should we successfully complete it, we will attain salvation, spiritualism and God realisation.
References
Sri Guru Granth Sahib Darpan volume 1,3 and 9 by Professor Sahib Singh
The Sikh Bulletin volume 6, Number 6 & 7, June –July 2004
---
A Half -Written Letter
Ammad Ali, A journalist and historian based in Rawelpindi, Pakistan
It was a half written letter,
With no address to destination.
Now the letter was in the hands of a lad,
Who pushed it out from dusty scrap.
A letter of a sister to her brother,
''Darshan Singh! My brother return to home soon.
Wheat crop is the best of all times and
Mustered blooms to the fullest.
Come home situation is getting worst, as early as possible
I am telling….. .. ''
Some unwritten words and half left page empty
Was blacked in ink, space of piece of paper filled with.
Letter was not valuable, so no one picked
All belongings of rich Sikhs left behind
Were important of, theirs radio sets, type writers and jewelleries.
No one was curious to read a half written letter
All the dwellers had left the town
Some were confident to see back their home again.
Darshan Singh who was waiting of her sister,
Never saw her not even that half written letter
On flowing Kaanshi outside his home
Lad makes a boat of half written letter and floats it into ravine
Kaanshi's water was limped after many weeks of March
Kaanshi will never red again, Kaanshi will never red again
*Kaanshi is a ravine which flows in Kallar Syedan and Gujar Khan, historical towns of Pothohar. March 1947 riots commenced in this area firstly. The very area witnessed most number of Hindu and Sikh killings more than anywhere in Punjab and Bengal.
---
The Solar Eclipse: A Magical Formation and the Notion of Sutak
Ishmeet Kaur Chaudhry
The Solar Eclipse is a scientific phenomenon that adds wonderment to the several formations of nature. In an attempt to gauge the limit of ocean, one finds the horizon but no ending. Similarly, even though we live in an age of advancement of science, still human beings have not been able to measure the depth of the sea. I remember how a Malaysian Airlines flight MH370, in March 2014 had disappeared into the sea, despite a thorough search, and an internationally collaborative effort, not much information is available and the disappearance of the flight remains a mystery. Also, the deep centre of several deserts remains unsolved mystery to humankind despite satellite surveillance and numberless triumphs in space.
Not to be pessimistic about many congratulatory moments of scientific success, humankind has moved on with a motivating pat on the back that has led to new discoveries, inventions and innumerable feats. Still a lot is yet to be explored and achieved. This brings us to the idea that no matter what, the nature still surpasses human ability, remains authoritarian, yet gracious, kind and loving. Several are the ways in which nature manifests itself. Last year we were roaming in a COVID19 free air, when we visited the Niagara Falls. Standing in a corner, I could see some tiny small things moving upward from near the fall, just like a colony of ants. They weren't any animals but human beings, visitors to the "Cave of Winds", a safe place marked for tourists to experience the sprinkling of the falls by standing under them. In comparison to the falls all the people appeared minuscule, while the falls appeared magnificent, ferocious, dynamic, vast and tireless. A sublime feeling of awe took over me as I stood there watching mute. It was a moment of surrendering the self and embracing the magnificence of the One (IkOankar), feeling a part of the entire cosmos and yielding yourself to the best. Once life returns to its normal, even though we may not forget it, we tend to overlook this truth of life and we get lost in the routine.
In India, we are seeing the Solar Eclipse today, a delight for the scientists who have predicted the exact time and place of its visibility. The beautiful ring formation will lead to more scientific data and the radiations emitted will add to new researches. The scientists have been at their instruments for days now waiting for this moment.
But this phenomenon is considered unholy by the astrologers who associate it to darkness and this Solar Eclipse is accompanied by Amavasya (lunar phase of the New moon meaning no-moonlight, utter darkness). The manner in which moon will shadow the sunlight will also result in darkness at many places; for the astrologers, utter darkness is a matter of worry. They also associate this phase with ominous moments called Sutak that begin a few hours in advance. Be it a scientists or a geographer's delight or an astrologer's pain, what meaning does Sutak hold for an ordinary human being, for you and for me?
Guru Nanak Sahib in Asa Ki Var has explained how Sutak impacts everything if one believes inthe misconception around it. If one believes in it, then Sutak is everywhere for every creature, not just for human beings. Sutak would impact the creatures in the cow dung and the firewood; in the grains of wheat that contains micro-organisms; the water too, is first full of life, has several properties that support life because of which the Earth is green. Nanak Sahib raises a question at this point and answers it too: How can the impact of Sutak be removedby observing restrictions in the kitchen? His answer is that Sutak does not get eliminated by fasting or by restricting entry into the kitchen, it can be only and only be eliminated, through wisdom. Therefore, the magnificence of Satguru, who is full of myriad virtues, should be praised.
He explains that there is not just one Sutak, there are several:
Greed is the Sutak of mind
Lying is the Sutak of tongue
Gazing at another's (wife/women) or greed for another's money is the Sutak of eyes
Listening to gossip is the Sutak of ears
Nanak Sahib summarises that these are the real Sutak. It is because of them that human beings, no matter how graceful they seem to be, suffer because they are bound by these vices of greed, lie, lust, and the pleasure of gossiping. Therefore, Sutak associated with natural phenomenon and temporarily around certain situations is an illusion which leads human beings to forsake IkOankar and gets attached to others. It is in accordance with the will that the True Guru, who is full of greatness be praised, in accordance with the will do the vices within the human beings are eliminated (uprooted/killed). One gets a glance of the Truth and mysteries get resolved.
---
Mushroom recipes all the way from Pothohar
I have adapted my mother's recipes, with a bit of a twist here and there to suit modern requirements.
Mushrooms contain an immune bursting antioxidant called ergothioneine. They are easy and fast to cook. The aroma produced when cooking is so delicious that it makes you hungry. Mushrooms have a very short growing period, so Pothoharis enjoyed these whenever available.
I have written these recipes in a mild form, but chilli can also be added to taste.
Enjoy mushrooms cooked the Pothohari way
Cleaning
Mushrooms need to be cleaned thoroughly before cooking
Method
Always wash the mushrooms in a bowl of water. Remove the stalks then clean each one with a kitchen towel or a thin piece of cloth. Alternatively remove the outer thin layer with your fingers.
I hope you enjoy your mushrooms and I look forward to finding more Puthohari recipes to share with you in the next issue!
---
Mushrooms as a snack 1
Ingredients:
Button Mushrooms 250g
1 tbsp olive oil
1 tsp ground jeera
Salt
Ground black pepper
Method
Mix the cleaned mushrooms with jeera, oil and salt in a microwave friendly dish.
Cover it and microwave at high heat for 3 minutes.
Give them a good stir and add some black pepper.
Stir and serve.
It also goes well with English hot breakfast. Also if you prefer, you can cook them over the hob.
Variety 2
Ingredients:
250g medium size mushrooms each cut into 4 pieces
1 medium size potato
1 onion, cut into thin slices
2 tbsp olive oil
1 tsp ground jeer
1 tsp of garlic paste
Freshly cut coriander
Salt
Black pepper
Method
Heat the oil in the pan and add jeera
When it stops spluttering, add garlic then add potato slices.
Stir fry for a minute then add onion and fry for another minute.
Add the mushrooms and continue to stir fry until cooked (it takes a couple of minutes).
Add salt and black pepper powder (1/2 tsp)
Garnish with finely cut fresh coriander and serve with a buttered toast
Mushroom de Pakoras
Ingredients:
Medium size mushrooms (with stalks removed)
For the batter:
½ cup of white flour
½ cup of water
Salt
Pepper
½ tsp Garlic paste
Method
Mix the flour, salt, black pepper and garlic paste.
Slowly add water and mix.
Dip the mushrooms in the batter and deep fry.
Mushroom de Sabzi
Ingredients:
300g of mushrooms cleaned
1 bell pepper
1 medium potato
1 medium onion, sliced
1 tsp garlic paste
½ a cup of frozen sweetcorn
2 medium tomatoes, cut into small cubes
4 tbsp of grated coconut
½ tsp of turmeric powder
1 tbsp of jeera
Salt
2 tbsp of any cooking oil
2 green chillies, cut finely (optional)
Method
Heat the oil in a pan and add Jeera.
When it stops spluttering, add onions and fry until it looks transparent.
Add (chilli) garlic, ginger, coconut and the tomatoes and fry over medium heat until it looks well blended.
Now add all the vegetables and salt and mix well.
Cook on high heat for a couple of minutes, then reduce to medium heat.
Cover the pan and cook for about 5 minutes until well done.
You can always increase or decrease the cooking time depending on how crispy you like your vegetables.
Serve in a nice looking bowl, sprinkle with coriander leaves and serve with Roti or Naan it tastes equally delicious!
---
Obituary Bhai Bhagwant Singh Ji
Rajinder Singh Bhasin
Well known Kirtani, and former Hazoori Raagi and President of Central Gurdwara London (Shepherds Bush) sadly passed away on 31 March 2020.
Bhai Bhagwant Singh ji came from India in 1975 to become the Granthi and Hazoori Raagi at Shepherds Bush Gurdwara.
He arrived alongside Bhai Kuldeep Singh who played table. When they arrived the Gurdwara Sahib had very basic accommodation. Bhai Bhagwant Singh ji was allocated accommodation next to the kitchen, the present day food store. He was very happy with the accommodation and welcoming behaviour of the Committee members.
I fondly remember talking with him length about Gurbani and Kirtan
Bhai Bhagwant Singh and Kuldeep Singh became an excellent Kirtan Jatha, whose skills were appreciated highly by the increasing Sangat. In those days the kirtan was recorded on tapes and distributed to the sangat. Many of these old tapes have been converted and you can listen to their kirtan on YouTube.
Later he was joined by his family, wife and five children and when the Gurdwara Sahib purchased the two houses next to the Gurdwara Sahib during 1980-81 the family was given better accommodation.
After serving the Gurdwara for over ten years he became a freelance Raagi recording many CDs and performing Kirtan all over the UK and abroad.
Bhai Bhagwant Singh always remained a committed sangat member at the Gurdwara and was elected President from 2006-2010 after which he served on the committee intermittently up until early 2020.
Following a fall in his garden he was taken to hospital and left for heavenly abode on 31st March 2020. Under normal circumstances his funeral and Antim Ardas would have been very well attended, but sadly during the Coronavirus only immediate family could attend.